Colder weekend and maybe some much needed rainfall for some areas.
The current mild weather will be replaced by a lot colder conditions over the weekend with most places also seeing some rain on Sunday. This is due to an area of low pressure moving west to east over the south of the UK which should lead to some much needed heavy rain to southern parts. Even at this short range, the models are still uncertain about the track of this low and it's possible the main band of rain will miss the UK but also if the GFS is correct, then on some northern edges of the band of precipitation, colder air will be present and this could lead to the rain turning to sleet and wet snow.
GFS Model is showing a deeper low moving east on Sunday bringing heavy rain and quite strong winds with colder conditions following behind.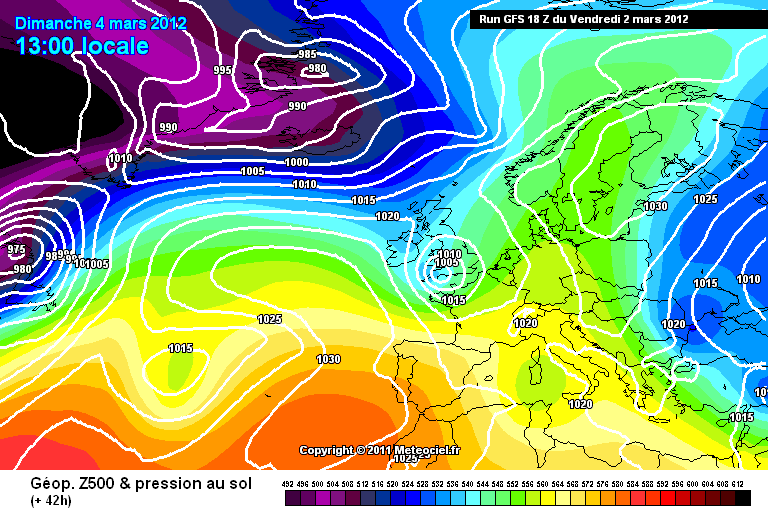 Saturday:
A cooler and windier day for much of the country with outbreaks of rain at times. Dry and bright in the East in the morning but mainly cloudy elsewhere with patchy rain moving eastwards. By the afternoon this will have cleared most areas with bright and colder conditions following but some blustery showers aswell and these may be wintry in parts of Scotland and Northern Ireland later on. Windy in the north and west with Max temperatures of 8c in the north and 12c in the south but turning colder once the rain has cleared.
Showers continuing tonight in western and northern areas but dry and partly cloudy elsewhere. Rain arriving into southwestern parts and N.I by early morning. Lows of 4-6c
Sunday:
Still some uncertainty on Sunday and this will affect Monday and Tuesday aswell as the track of the low is still uncertain however it looks like it will turn windy in the South as outbreaks of heavy rain spread east across all parts through the morning. Rain will continue through the afternoon and into the evening and maybe even turning wintry on its Northern edge as colder air moves in. Wintry showers continuing in the north. Colder with Max temperatures of 4-8c.
Early next week should start mainly fine and dry as Sundays rain clears eventually on Monday leaving mainly dry conditions with bright spells and winds becoming lighter and maybe touch of frost at night. A colder day with Max temps of 4-7c. T
urning wet and windy from the northwest late Tuesday.
So a change to a lot colder weather this weekend and early next week and maybe some unsettled weather aswell on Sunday but will it last? I'll have the weather for the week ahead later on this weekend.

Have a good weekend,
Matthew